Yesterday I made this quilted zippered pouch ready for all my supplies that I need to take to the Retreat at the weekend.
As I'm only going for the day on Saturday and all of my classes involve hand sewing, I'm not taking my sewing machine. Hopefully most of my basic supplies will fit in this pouch.
I really struggled with the bit of fabric at either end of the zipper because I the quilted block was the wrong size for my zip. The zip was about two/three inches too short I totally messed it up but its passable and completely usable, so I will try ask someone at the Retreat what I should have done... or maybe you know and will leave me a comment telling me how/when I should have sewn that bit.
I cut up my fabrics for the classes I'm doing. I still need to get some more colours of the embroidery floss for Aneela Hoey's class but I am super happy with how everything else went.
The little pieces of fabric are for the English Paper Piecing class with Tacha Bruecher. I decided to try the Snowball design.
And my little girlie Dandelion had left this sweet daisy chain on my sewing machine just to make me smile.
Linking up with Manic Mondays over on
Sew Happy Geek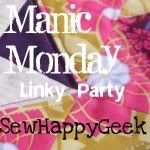 Cheerio for today
Liz
xxxx