So, its Friday and today is, therefore, officially the day that something very exciting is happening...
My tutorial is being featured over on the magnificent
Quilt Story blog
.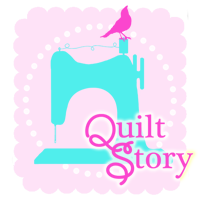 I am so excited because Quilt Story was one of my first regular blog haunts in the days when I was only a reader/lurker, way before I had this little blog.
If you have just hopped over here from Quilt Story, then a really huge welcome. I sure do hope that you will linger a little and I would be super excited if you decide to *Follow* my blog to keep up to date with future happenings here. Watch this space because I can feel another Giveaway coming on!!!!!
Here is a little flavour of what I made recently:-
Today I will be mostly working on this...
Inspired by all the Dresden blocks being made in blogland at the moment, I decided to combine two projects and use my Dresden's on my entry for the Tea Cosy competition which is being held locally.
So, what are you making today?
I'd love to hear all about it.
A huge thank you to Heather and Megan for putting a big smile on my face today.
Happy sewing.
Liz
xxxx