Inspired by the orange zip I bought at the Haberdashery, I made this start on a quilted zippered Summersville pouch that has been floating around in my imagination ever since I saw Lu's amazing fabric.
Hopefully I will manage to get both panels quilted tomorrow - not sure how yet. Any suggestions? FMQ squiggles? straight lines?
Linking up to the Manic Monday Linky Party over on Sew Happy Geek.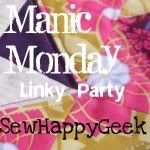 and also Plum and June's Monday Link Up
Hoping you have a lovely day.
Cheerio
Liz
xxxx