I am loving the brilliant
Let's Get Acquainted Blog Hop
which Plum and June are hosting this summer/autumn.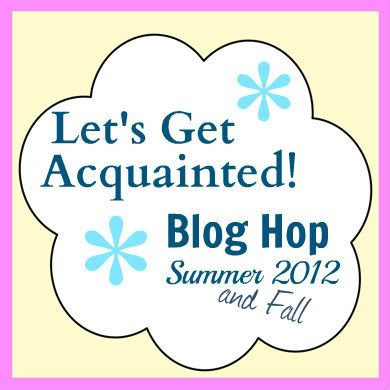 I've found quite a lot of new blogs through the hop, and with them new inspiration.
The lovely
Jennifer
over at Knotted Thread blog is organising an I-Spy Charm Swap, which I am super excited to take part in.
Ever since I started dabbling in quilting, I have wanted to make an I-Spy Quilt for my littlest Dandelion. But trying to gather together enough different and diverse picture charm squares is proving tricky for me, so I am very pleased to get a chance to take part in this swap.
Just in case you don't know what an I-Spy Quilt is, this definition from About.com says
Definition:

An I Spy Quilt is made from

fussy-cut

fabrics, usually children's prints or other types of novelty fabrics with motifs that depict objects the child can "spy" when looking at the quilt. I Spy Quilts are typically made from squares, since they are easy to fussy cut, but you'll also find quilts made with other patchwork shapes.
There are still spaces available. Fancy taking part too?
Just head on over to Knotted Thread and leave a comment for Jennifer there.
But hurry... I know from bitter experience that these swaps fill up quickly.
Need more encouragement?????? Here are a few of my favourite I-Spy Quilts {from the Flikr group of the same name}
Source: I-Spy Bubbles by Koshka2 on Flikr
Source: I Spy Quilt by Riel on Flikr
Source: PinkPlease! on Flikr
Shall we have a little game right now??? I know you want to ;0P
I spy with my little eye... something beginning with D
Cheerio for now
Liz
xxxx